Teds's ThumbTimble
Ted's ThumbThimble information
Discover what a joy it is to quilt in all directions, without having to turn your hoop.

Use your favorite quilting technique in directions towards you. Switch to quilting with your thumb and ThumbThimble when required to quilt away from your body.
Benefits include:
The thumb and the index finger are well coordinated and strong.

Less stress on joints means less risk of injury, the pressure is divided by two different techniques.

The shape inside the cup controls the needle in varied directions.

The tip of the thumb is free to pick up a needle, thread the needle etc.

No painful pressure points because of its ergonomic design.

The open end in the ThumbThimble™ allow free flow of blood and does not touch the nail.

The cone-shaped design adjusts to warm or cold hands.

Suitable for right- and lefthanded quilters.

The ThumbThimble™ fits any size thumb perfectly: Press the edges together for a tighter fit or pull open for more width.

Made in solid Sterling Silver (.925) This material is skin friendly, important for quilters with allergy.

Also available in polished brass.



NEW! For fanatic thumbquilters the best ThumbThimble: Silver .925 with a stainless steel cup.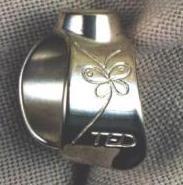 Panier
Aucun produit dans votre panier.